Kauai's Largest Selection of Quilting Supplies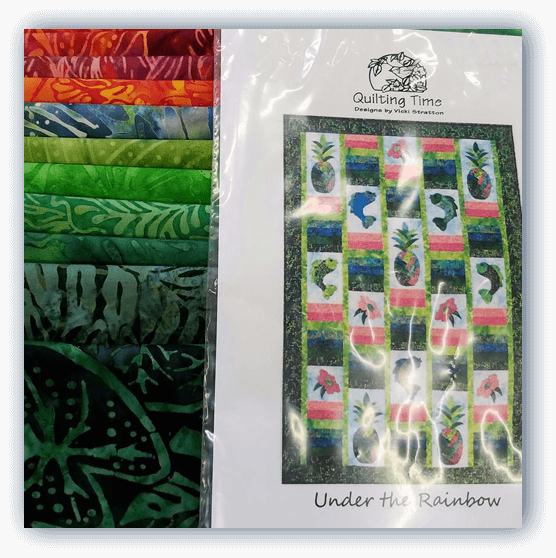 Kapaia Stitchery offers the highest quality quilting supplies. Our staff works hard to bring you the largest selection of quilting supplies on Kauai. From quilt batting, quilting frames and hoops, sewing needles, and more, we keep our inventory fresh. Therefore, there is always something new and exciting available at Kapaia Stitchery for all of your quilting projects.
We provide everything that beginners and advanced quilters need to make beautiful gifts, family heirlooms, clothing, household items, and much more. If we don't have an item in stock, we can special order it for you. In addition to our quilting supplies, we also have a large stock of finished quilts and other gorgeous items available for purchase. We offer shipping to anywhere in the world! Here is a list of the quilting supplies that we offer:
Quilt Batting
Quilt batting is the layer between fabrics. It places special emphasis on the quilting stitches and will support your quilt. In addition, it adds warmth, volume, definition, and can control shrinkage.
Scissors and Cutters
When sewing your quilt, cutting the fabric is very important. Whether you are cutting your pieces with a rotary cutter or scissors, Kapaia Stitchery has the best in cutting and snipping tools.
Quilting Frames and Hoops
Quilting Frames and hoops will help keep your fabric taut, which in turn will keep your stitches neat and even. If your stitches have an even tension, your finished piece is less likely to pucker.
Sewing Needles and Thimbles
Although we often take sewing needles and thimbles for granted, good quality needles and thimbles will improve the efficiency of stitching. Your thimble should fit snugly over your middle finger, and sewing needles should match the kind of sewing you are doing as well as the fabric and thread you are using.
Marking Tools
Marking tools play an important role in sewing, and the type of tool that works best will depend on the type of fabric you're using and the purpose you need it to fill.
Pins
Pins hold pattern pieces in place and anchor seam allowances as you sew. However, one pin can't successfully tackle all fabrics and sewing tasks. Different jobs require different pins.
Quilting Rulers
Every quilter will use quilting rulers for measuring. Thus, the accuracy and quality of your rulers are vital to your quilting success.
Cutting Mats
Cutting mats come in many shapes, sizes, and materials. They are very important as they will protect your table or desktop from dents and scratches.
Thread
Choosing the right thread is a very important factor in how your finished project looks. We have a wide selection of thread weights and colors for your needs.
Contact Kapaia Stitchery Today!
Please call us at (808) 245-2281 or fill out our submission form if you have any questions or would like to place an order for quilting supplies.