Kauai's Largest Selection of Quilting Fabric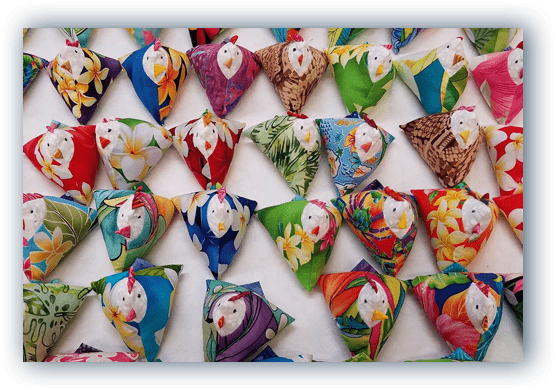 Quilting Fabric comes in many colors, styles, materials, and patterns. You can get quilting fabric by the bolt, in fat quarters, strips, squares, and even fabric scraps. We carry the finest fabrics by top quilt fabric designers in a variety of cuts, combinations, and kits. Kapaia Stitchery has tons of fabrics to choose from, including Hawaiian fabric, batik fabric, yukata fabric, indigo fabric, and more!
The first Hawaiian quilting fabric was a cloth called kapa. This cloth was made by beating the bark of the wauke or mulberry tree into thin sheets. In the 1820's, missionaries introduced new fabrics and sewing techniques to the Hawaiian women. The missionary wives also taught the Hawaiian women how to quilt, which soon replaced kapa making. In addition, the Hawaiians loved working with woven cloth. It came in an array of colors and was much more durable and easier to obtain than the kapa they had been tediously making by hand.
Today, Hawaiian quilters prefer to use 100% cotton. The better quality quilting fabric that you use, the easier it will be to do needle-turn appliqué. A good quality cotton fabric will make smooth curves as it is turned under and also tends to fray less than a poorer quality cotton or a polyester blend fabric.
Batik quilting fabric is basically a type of quilting fabric that comes with attractive patterns, made using a process that involves the use of wax and dying of the fabric. Although the batik fabric has an amazing variety of patterns, it's also one most versatile. Batik fabrics are created by stamping fabric with a protective wax layer in areas where the color is not desired before dyeing the fabric. Each new color requires a separate application of wax to protect different areas of fabric. The layers of dye create rich, complex colors not created in other printing processes. The individuality and color created in this unique dyeing process make batik prints colorful and intricate, qualities appreciated by discerning quilters and sewers alike.
Indigo Fabric
Quilters use indigo fabric traditionally for Japanese and Chinese clothing. The indigo dye comes from a variety of plants. Leaves are cut, dried, and composted to promote fermentation. The dye is stored in vats that are buried in a clay floor and kept at a constant temperature. It is a long process to make a vat of dye, and the cloth dipped in each vat may produce a different shade of indigo. In addition, you can achieve deeper shades by dipping the cloth multiple times.
Yukata Fabric
Yukata fabric is a traditional Japanese textile known for its exquisite beauty and comfort. Typically made from lightweight and breathable materials, such as cotton or linen, yukata fabric is perfect for hot summer days or casual festivities. The fabric often features vibrant colors, intricate patterns, and motifs inspired by nature, Japanese art, or cultural symbols. The gentle and soft texture of yukata fabric adds to the overall charm, making it a pleasure to wear. Whether worn for traditional events like festivals or simply as a comfortable loungewear option, yukata fabric embodies the essence of Japanese culture and the timeless elegance of its design.
Contact Kapaia Stitchery Today!
Kapaia Stitchery is here for you and dedicated to providing the best quality and service at a fair price. Come share your passion for quilting with us! We invite you to contact us to see what we have in store for you. To place your order, call (808) 245-2281 or fill out our submission form.